Katesort plugin
Katesort is a KPart plugin for all KPart compatible editors (Kate, KWrite, ...).
It is inspired by the famous windows text editor
PsPad
.
Screenshot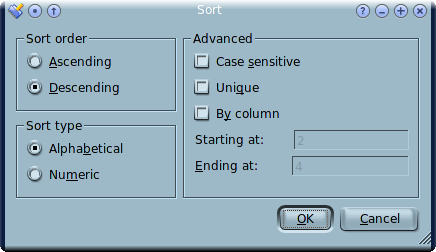 Features
Sorts selected rows or whole file.
Sort by ASCII or numeric value.
Sort in ascendig or descending order.
Allows case sensitive sort.
Allows removing of duplicities.
Can sort according to given column, if part of one row is selected, selection is automatically filled in the dialog.
Download
Version 1.0 (9.11.2007):
katesort-1.0.tar.bz2
,
katesort-1.0.ebuild
.
Changelog
Version 1.0 (9.11.2007)
TODO
Inserting of sorted result back to document takes ages :-(
Port to KDE 4
Installation
Gentoo:
See HOWTO Installing 3rd Party Ebuilds for details howto create a portage overlay.
Create directory <OVERLAY_DIR>/kde-misc/katesort and go there.
Download ebuid from http://marian.kyralovi.cz/linux/katesort/download/katesort-<version>.ebuild (replace version by the correct version string)
Create digest (ebuild katesort-<version>.ebuid digest)
Run emerge -av katesort .
Enable plugin in editor preferences.
Run it in the from the tools menu.
Other distributions:
Try to get a package for your distribution.
If doesn't exist, compile it from source code.
(You will need a kdelibs-devel package and development stuffs installed)

If you can send me a package for your distribution, you are wellcome.
Bugs
Bugs, comments, wishes, translations are welcome at mkyral@email.cz
Licence
GPLv2